Recent Coryats:
2-7-12: 28400
2-8-12: 21000
2-9-12: 33800
originally 1-2-06: 12000
originally 10-17-05: 20000
originally 10-18-05: 18200
Today's contestants:
Connie Shi
Matt Olson
Zack Terrill
I wondered whether there'd a female in today's episode. (I know I could've looked it up.) Two females had already secured their spots in the finals, going into today's episode. Today Connie vied for that third spot. Mr. Trebek said people were asking, "Will this be the year when they have three females in the finals?"
I thought today's show might go as well for me as yesterday's (see the above Coryat) when this was the first clue, in Pre-Columbian Americans: "A flint spear point from an ancient Mexican civilization was found lodged between 2 ribs of one of these 'woolly' animals." For real? But I didn't know the answer to this next clue in the same category: "2 major deities of the Zapotecs of Mexico: Coquihani, the god of light, & Cocijo, the god of this weather phenomenon." I clammed, but I have to admit I was wondering, Tornado? (I never would've pulled the trigger on that one!) This pretty much illustrates how the week has gone: Easy one second, hard the next.
At first I thought Zack just speaks quickly (okay, very quickly), but when I see him ring in it seems he's just had too much caffeine. Like I can talk. I do like Zack's hair. It reminds me of Fernando Verdasco's in the unforgettable 2009 Australian Open: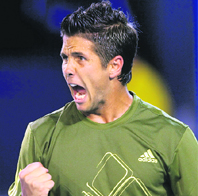 At the first break, Matt had 2200, Zack had 3800, and Connie had 3200 once her response of "Dr. Xavier" was accepted on this clue in Superhero Movies (speaking of hair): "James McAvoy (with hair) & Patrick Stewart (not so much) have both played this X-Men leader."
Connie found the Daily Double in Librarians. I wondered how many I could name, but this category was not that hard. The correct responses were people who were known for something else. Matt had 2600 at that time, Zack had 5000, and Connie had 4200. She wagered 1200 on this clue: "As an assistant librarian at Peking University in 1919, he red up on communist theory." (No, that's not a typo.) She and I got it right, and in fact I got all three Daily Doubles right today. At the end of the round, Connie had 7200, Matt had 4200, and Zack had 4600.
Matt found the first Daily Double in the Double Jeopardy round, which was a cruddy round for me. I was 1/5 in two categories and 2/5 in two others. I was 3/5 in another and I swept Eponyms, which helped me feel better about the round since it was at the end. I also got this last clue of the round, a triple-stumper in Poetic Characters: "e.e. cummings began a poem, this western bison hunter & showman is 'defunct.'"
Anyway that first Daily Double was in Volcanoes. He had 5800, Zack had 5000, and Connie had 8000. He wagered 2200 on this clue: "In 1944, allied forces in Italy had to evacuate an airfield when ash from this volcano damaged planes." He got it right.
Matt found the second Daily Double too, in Eponyms. He seemed to be looking for it. There were 5 clues left in the round, counting that one. Matt had a big lead with 18000, while Zack had 10200 and Connie had 8800. Unfortunately (since he missed it) Matt wagered 6000 on this clue: "Both a horse race & a man's hat are named for Edward Stanley, 12th earl of this." I thought this was a slam-dunk, but like I said, Matt missed it. A painful miss so close to the end of the round. When it came, Matt still led with 13200, while Zack had 11800 and Connie had 8800.
Usually I wait until after I've blogged (on nights that I do) to read the thread on that day's episode, but I simply couldn't wait to see if anyone was saying anything about the Final. I was proud to get this triple-stumper, especially after a friend tweeted me during the show, indicating he missed it too. The category was Ancient Quotations. This was the clue: "When Byzantine emperor Justinian completed Hagia Sophia, he declared, this king, 'I have surpassed thee.'" I've heard the words "Hagia Sophia," but I don't know what it is. I have to admit I even wondered whether it was a written work. You can't tell from the clue! I gave the correct response almost immediately anyway. Connie lost all but 2 dollars, nearly ending the speculation that she'd make the third girl in the finals. Zack lost 7000, and Matt lost 10401, making Zack a finalist! I didn't realize what a teeny little dude he was until he stood next to Mr. Trebek, who himself isn't very tall. I favor tall dudes but I'm going for Zack in the finals anyway, who by the way has already played Sarah Bart. Boys rule!
As for next week, I can't blog Monday night and Tuesday's questionable – I have something to do at 2 p.m. meeting and then a friend is working for me in the evening, but not so I can blog – so I can sleep (since I'd be getting up at the equivalent of 2 a.m. and working both nights)! If I'm feeling up to it I'll blog, but we'll see.